The best option will depend on where you are staying, the number of journeys you wish to make, and the number of people travelling.
| | |
| --- | --- |
| METRO AND BUS |   |
You will need a Multi Card
The Multi Card is a non-personal prepaid contactless public transport card. It may be used for different persons and different trips (i.e., several people may share the same card).
The Multi Card is on sale at the price of 2.50 euro (If the first charge of Multi Card is a Tourist Ticket, the Multi Card sale-price will be included in the price of the Tourist Ticket).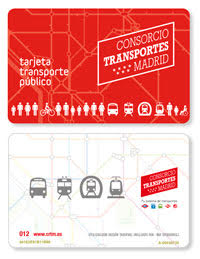 You can buy it at:
Automatic ticket machines of Metro de Madrid and Light Rail.
Information points in the Interchange Stations
Once you have a new one it can be charged with different types of tickets (https://www.crtm.es/billetes-y-tarifas/tarjeta-multi/titulos-que-puedes-cargar.aspx?lang=en).
However, it will only be enough for you to know about these options:
These are current fares:




Single tickets*


Trips up to 5 stations: 1,50 €

Trips from 6 to 9 stations:Additional 0,10 € per station.

Trips of 10 stations or more: 2,00 €




10-trip ticket


12,20 €





Ticket from / to Airport


You will need to pay for a supplement ticket to the airport (3,00 €) (appart from your one trip ticket)






Tourist passes

It is only valid for one person and offer unlimited use of public transport for a specified period.
If the first charge of Multi Card is a Tourist Ticket, the Multi Card sale-price will be included in the price of the Tourist Ticket.
These tickets are valid from the time of their first use and for the calendar consecutive days included in the selected ticket.
It can be also used in suburban railway stations (Renfe-Cercanías)
Tourist tickets can be aquired at the airport and charged also at the authomatic machines installed at the Madrid suburban railway.

1 day: 8,40 €  2 days: 14,20 €   3 days: 18,40 €   4 days: 22,60 €   5 days: 26,80 €  7 days: 35,40 €
*In automatic machines, you select the destination and the number of stations, being calculated automatically the price of the shortest route available.
RENFE

(Railway Network)

 
All types of tickets (single tickets, roundtrip tickets and Bonotren tickets) may be bought in the ticket windows and automatic machines of the Suburban Rail network stations.
These tickets can not be charged in the Multi Card
| | |
| --- | --- |
| Single tickets | 1,70 € |
| 10-trip ticket (bonotren) | 10,00 € |

All these fares consider you will be travelling inside the city of Madrid. If you consider taking some excursions around the city, please visit other fare zones (https://www.crtm.es/billetes-y-tarifas.aspx?lang=en)
Getting to and from the airport
There are several options for doing so. Pick whichever works best for you, your budget and schedule.
By bus
Direct connection between Atocha (or Plaza de Cibeles at night) and Barajas Airport, 24 hours a day 365 days a year.
Buses every 15-20 minutes (day time service) and every 35 minutes (night time service).Journey times: Atocha-Terminal 1 (T1): 30 mins. | Atocha-Terminal 2 (T2): 35 mins. | Atocha-Terminal 4 (T4): 40 mins.
Stops at the most central points of the city from which you can connect with the rest of the urban transport system.
Fare: €5. Pay in cash on-board the bus. Largest note accepted €20.
By Metro
Take line 8 (the pink line), which starts at Nuevos Ministerios to T2 and T4 at the airport.

It will take you around 15 minutes to get Nuevos Ministerios
Be aware that there is a special airport fare for the metro, so tickets have a supplement of €3 (unless you have a Tourist Ticket in your Multi Card).
By RENFE
You can take C1 or C10 lines (both stop at Nuevos Ministerios).




Note that the trains only stops at terminal 4, so you'll need to take the airport shuttle bus from there to get to any of the other terminals.
Frequency: Every 15-20 minutes.
Estación de Nuevos Ministerios – Aeropuerto T4: 22 minutes.
The ticket can be aquired at the RENFE machines at 2,60 €
By Taxi
All terminals have clearly signed taxi ranks outside the arrivals area. Official taxis are white with a red stripe and have the Madrid City Council coat-of-arms on their doors.
To take a taxi you must go to the appropriate taxi rank. Avoid people who offer taxi services inside the terminals. Make sure that the taxi driver starts the meter at the beginning of the journey (minimum fare). Ask for a receipt in the event of a complaint.
Assuming you will be staying in the inner part of city, the taxi will cost €30 from and to the airport (This includes AEMET site and Nuevos Ministerios building). No supplements can be added to this flat rate fare.
A free shuttle bus service called "Transit Bus" (Bus Tránsito) connects with each other the airport terminals: T1, T2, T3 and T4.